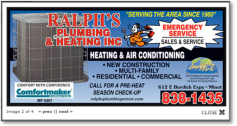 Once you have completed your search and the results are displayed, you now have a few options for obtaining further information about each listing. If there advertisements available for a listing, it will be listed under the phone number(s) with a star beside it.
Clicking on that link will bring up more information in a separate box, or you may click on the magnifying glass icon

to the right of the listing to scroll through all of the available ads. To close the box, simply click on the Close X link on the bottom right, or simply click anywhere outside of the ad.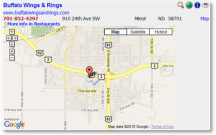 If a website is available for a listing, it will be either listed under the business name or displayed to the right as a globe icon

; click on either link to access the website.
If a map for the business address is available, it will be listed as a Map link; click on it to access it. To close the map, click on the map link again.